Best Father's Day Cricut Project Ideas
Cricut Fathers Day gift ideas – It's never too late to celebrate Father's Day, for those of you who missed it, don't worry. We've got some designs you might need to celebrate Father's Day. But before that, do you know what Father's Day is? . Father's Day is a celebration to honor people's fathers and celebrate fatherhood, paternal bonds, and the influence of fathers in society.
It was first proposed by Sonora Dodd of Spokane, Washington in 1909. It is currently celebrated in the United States every year on the third Sunday of June. A great excuse to get your mower out and make a special gift for your dad, grandpa, or another special man in your life. Unique and original handmade gifts. But, sometimes it is difficult to find the perfect handmade gift for a man. To make it a little easier, I've put together a bunch of Father's Day Gift Ideas that you can make with your cricut or Silhouette Cameo.
Fathers day cricut shirt ideas
There are so many great ideas out there! But I will recommend the 10 best designs from vectorency, which can add to your creativity to make Father's Day more memorable. So here are some designs that you might like.
This design is perfect for those of you whose father or grandfather likes fishing! You can also personalize your own name or according to what you want.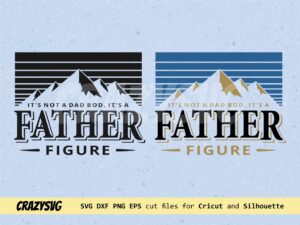 This design that uses mountains as the background may be suitable for your next project to make it seem more unique and interesting.
This design really describes Father's Day, because all fathers in the world are indeed the best fathers for their sons and daughters.
This design is also no less interesting than other vectorency designs, a design that truly defines the role of a father in our lives, namely as husband, father, protector and hero for his family.
This design featuring a father holding his daughter's hand is perfect for girls who are usually very close to the father figure.
Built Dad Tough SVG
All fathers in this world must be quite tough and brave huh. Because being a father is not easy, maybe this design to build a strong father will be suitable for your father's day project. Shout out to the toughest dads out there!
Papa Modelo Fathers Day
So, those are the recommendations for the 10 best designs from vectorency with a father theme that might be your reference for celebrating Father's Day. So, have you decided which design to use? hahaha, because the designs from vectorency are really good, right?.
Hopefully our recommendations can help, happy father's day everyone.